For unattended parking garages, except the parking management system, an IP audio system for communication (voice/video intercom), tone, notifications and music broadcasting is also essential.
The ZYCOO IP Audio Center can be deployed in the cloud or on a bare metal server, and it will be integrated with parking management system. The service agents will be working in a remote customer service office instead of working on site. Each of the agent can manage one or more parking garages by working this way.
At the entrance and exit gates, ZYCOO SIP paging gateways can be integrated into the gates as SIP intercom panel for enquiry purpose. Customers can simply press a key to establish a voice intercom call or a video intercom call to speak with an agent for help.
In the parking areas, ZYCOO Network Speakers can be deployed for tone, notification and background music purposes.

Solution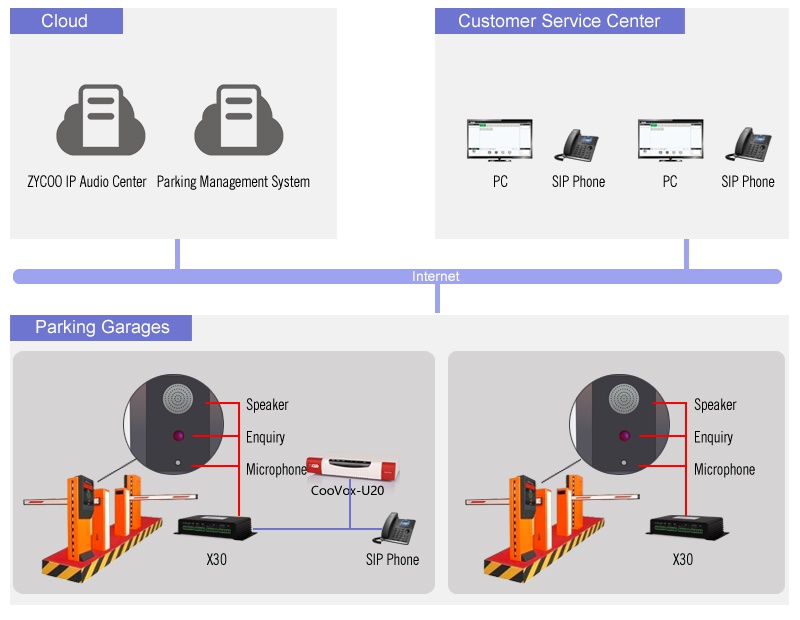 Benefits
1.Cut Expense and Improve Efficiency
All SIP paging gateways, network speakers and IP phones are all registered on the same server (ZYCOO IP Audio Center), they can be centralized operated and managed. With the multiple dispatch user login and sophisticated permission and grouping, parking garage owners can use just one IP Audio Center to manage multiple parking garages in different locations, while each of the parking garages can operate independently with just one agent. Or one agent can operate several parking garages. And all parking garages can share the same customer service center. It will greatly reduce the operation expense and improve the efficiency.
2.All-in-one Solution and Future Proof
With ZYCOO IP Audio Solution, you benefit from a full-featured public addressing system, SIP intercom system, IP phone system. Everything you needed about IP voice are all supported.