Anti-epidemic Tips on COVID-19 | 3 ways that IP Audio Solutions can contribute to a robust city
Many System Integrators and clients are no strangers to crisis management, but the global scale and continued uncertainty around COVID-19 is a first for us all.
Whatever crisis response preventive measures, news and dynamic data that may have existed weeks ago now seem to be from another era, and even the most nimble system integrators — accustomed to evolving their strategies and adapting marketing target in real-time — are asking, "How do we meet this unprecedented moment?"
While the answer to this question will be different for every company, many have responded with meaningful approaches to give audiences a reason to believe that we'll get through this crisis and move forward together.
Here are three impactful ways system Integrators using ZYCOO IP Audio Solution are showing up during the coronavirus pandemic.
1. By Timetable Announcements
The timetable triggered announcement will be executed according to the time rules configured by the users. It can be configured as a one-off announcement task on a specific time point or routine announcement tasks on specific time points of specific days. Therefore, we can schedule announcements in Residential area Commercial Plaza and supermarket chains to remind people that the epidemic is not over yet and protect yourself such as
The importance of wearing a mask in densely populated place

Dynamic data on Corvid-19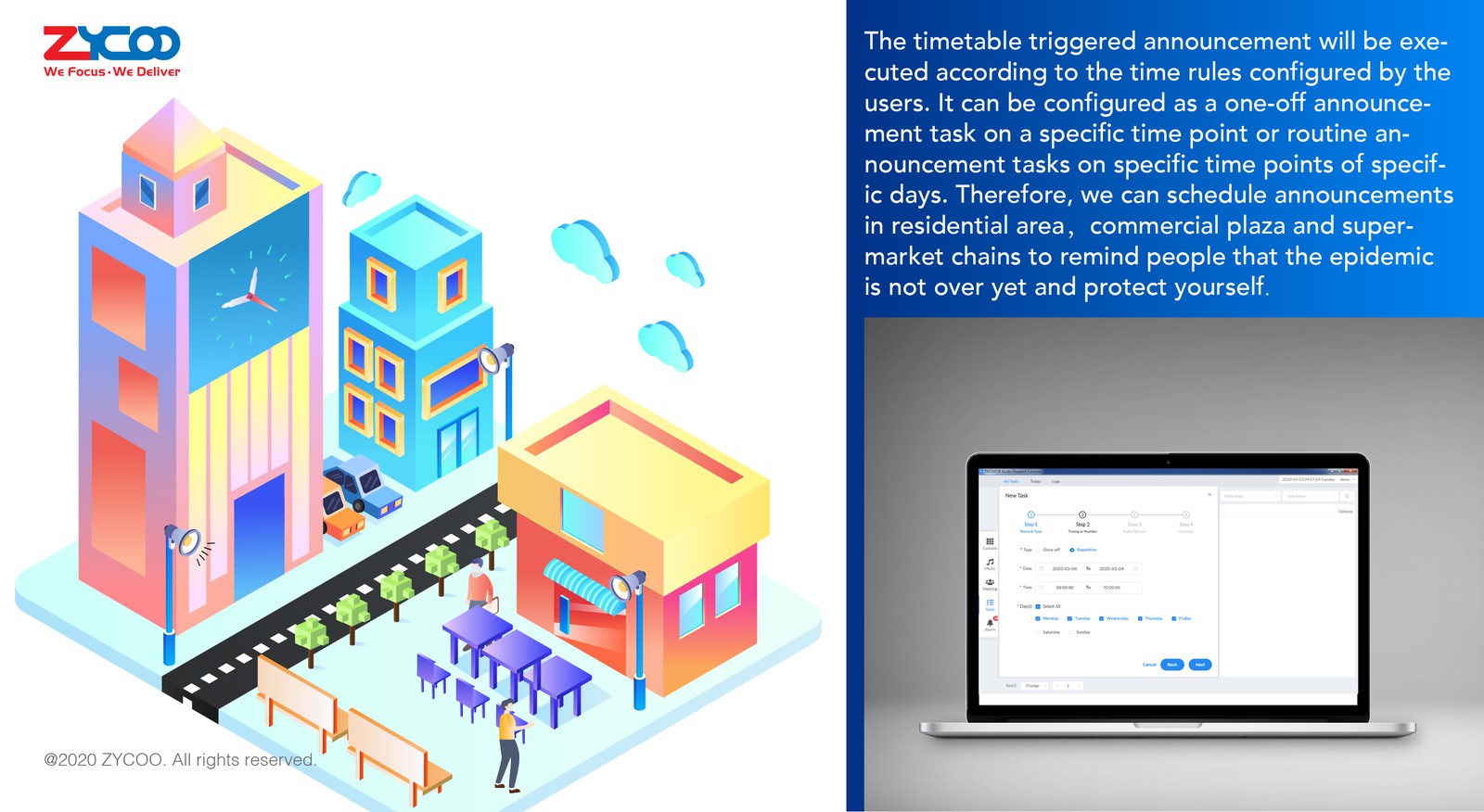 2. By Emergency Announcements toPrevent Infection
With IP Audio dispatch center, we can use the pre-configure alarm sounds and emergencies. Of course you can delete the default files and upload new files for Emergency announcements. It can be achieved by dial number triggered to announce, so the user can also sound alarm by dialing a code from the IP phone or SIP microphone.
For example, the suspected patients invade into buildings or restricted areas, the user only needs to dial a button on the IP phone or to remind people in that area going out less and cooperate with inspection.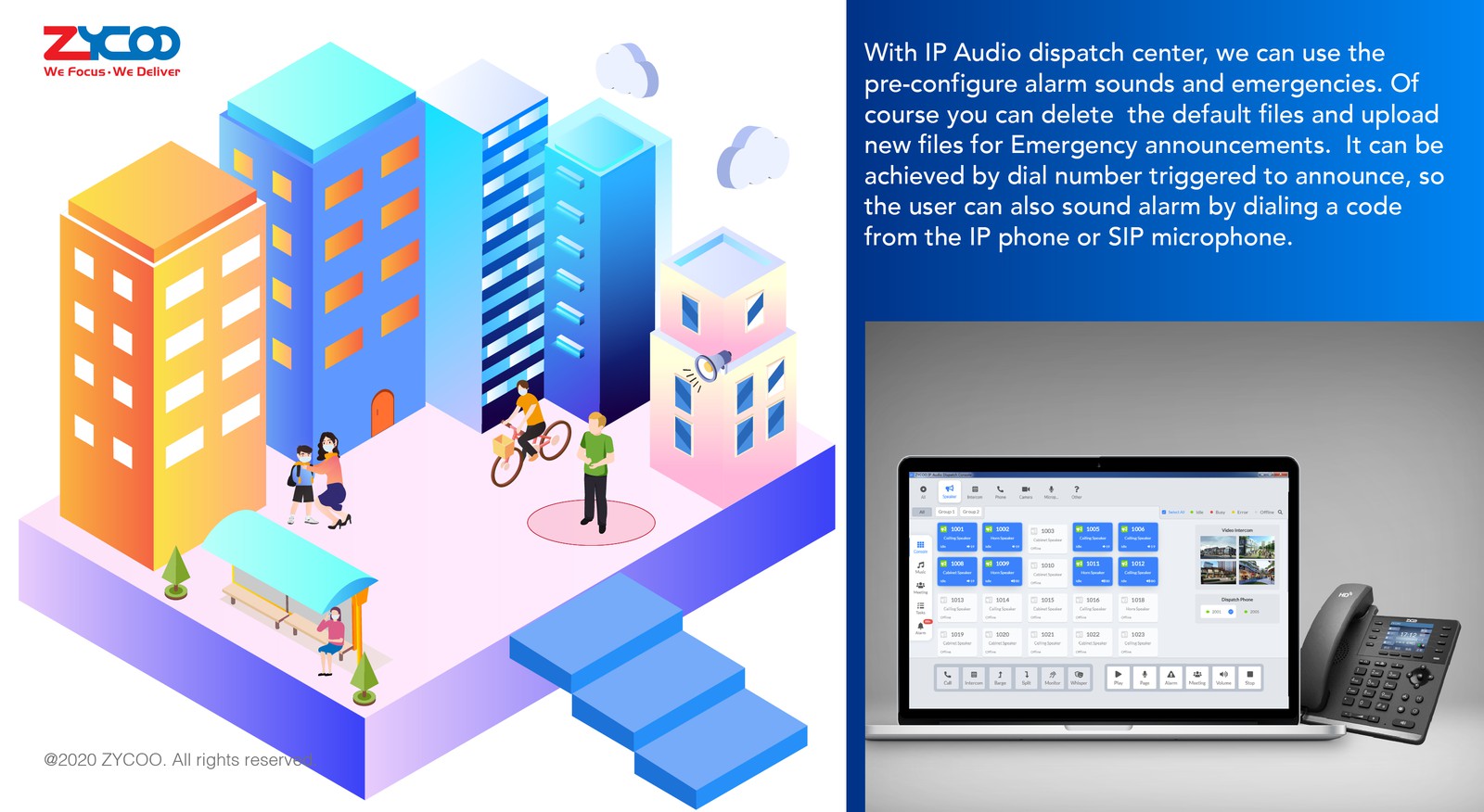 3. Live Announcements by Groups/Zones
The COVID-19, as we know, affects different people in different areas. ZYCOO IP Audio system can be can be installed on dedicated hardware or cloud-based servers, and the speakers can be grouped zoned or based on their location.
For example, zone-based live announcements, scheduled broadcast, emergency broadcast plus further zone-based features are all possible.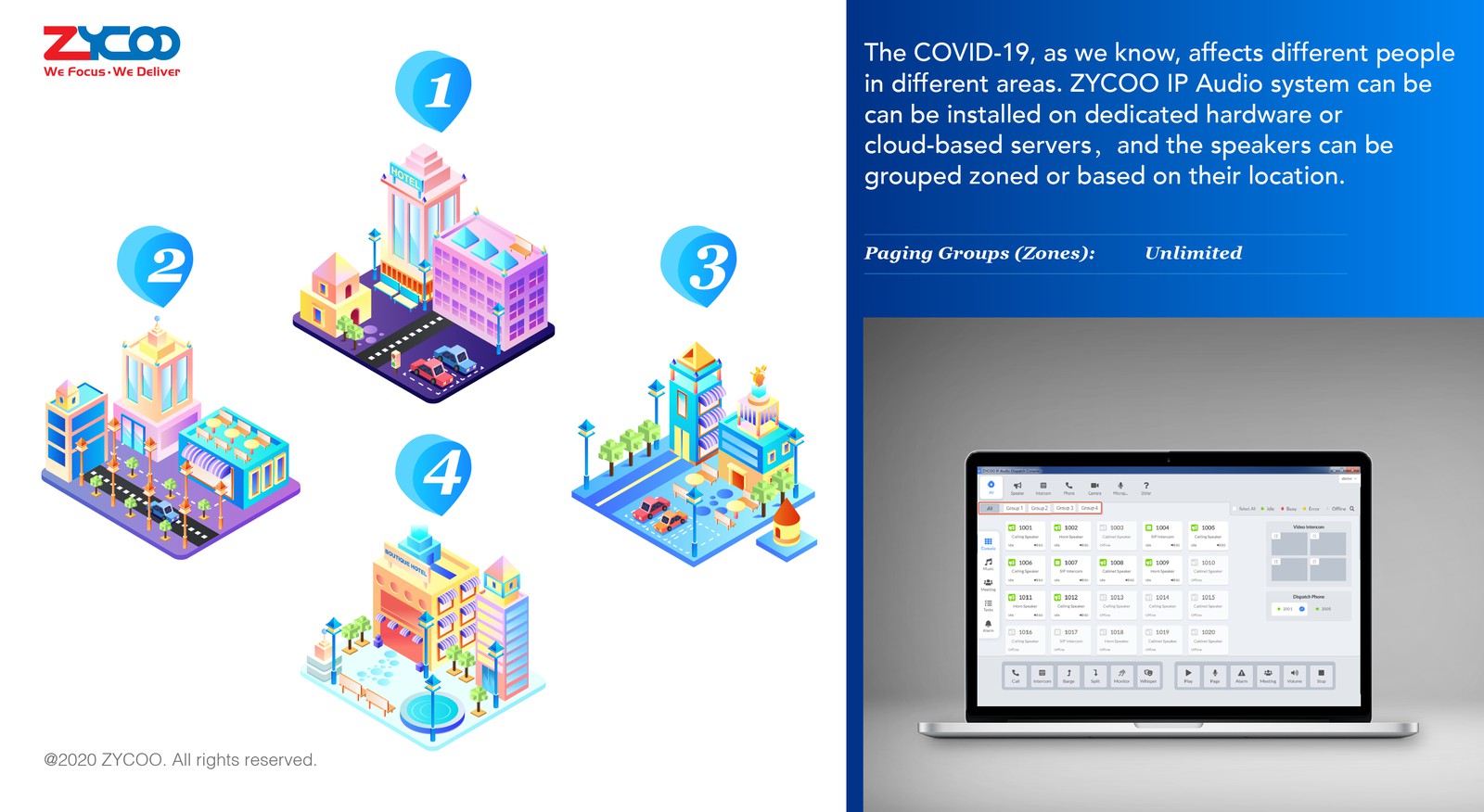 The robust and security of citizens is often highlighted as one of the most important aspects of livability in a modern city. With authorities increasingly looking to use connected technology to improve their cities, audio can play a central role.
You can find out more features and functions to contribute to a robust city on the white paper of ZYCOO IP Audio Solution here