Partnership Establishment with Chengdu Disaster Reduction Institute
On July 26, 2021, ZYCOO Co., Ltd. and Chengdu High-tech Disaster Reduction Research Institute signed a strategic cooperation agreement in Chengdu, China. Mr. Zeng Wei, the Sales Director of ZYCOO China Market, and Mr. Guo Kai, Director of the Achievement Transformation Center of the High-tech Disaster Reduction Research Institute delivered speeches and signed the agreement on behalf of both parties.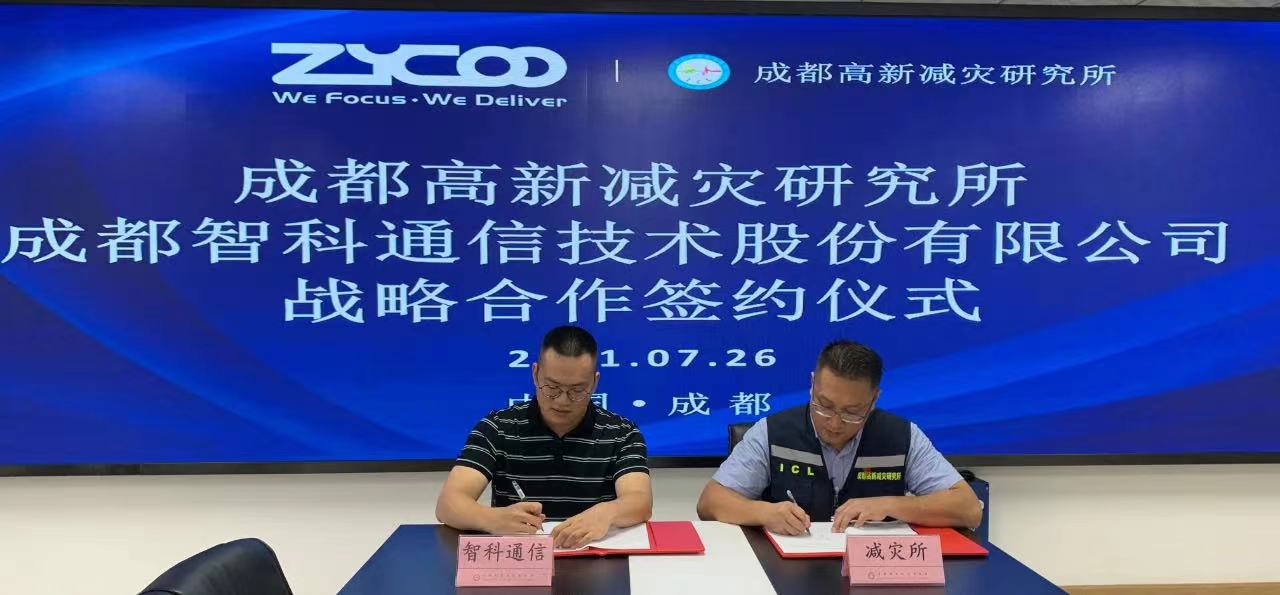 Chengdu High-tech Disaster Reduction Research Institute (referred to as "Disaster Reduction Institute") was established by Dr. Wang Tun after the Wenchuan earthquake in 2008. It is rooted in Chengdu and Sichuan Province, facing the whole country and the world, focusing on disaster early warning technology research and development, achievement transformation, and application.
With the support of the leadership of party committees and governments at all levels and the Organization Department, United Front Work Department, Science and Technology, Emergency Management, Overseas Chinese Federation, Overseas Chinese Affairs Office, and propaganda departments, the disaster reduction institute has extended from earthquake early warning to multi-hazard early warning, from domestic to international, to send a comprehensive disaster warning:
(1) Developed the world's leading earthquake early warning technology achievements with completely independent intellectual property rights, making China the third country with earthquake early warning capabilities after Mexico and Japan.
(2) Extended to multi-hazard early warning successfully. Integrate sky, air, ground, and underground sensor data to realize disaster early warning service capabilities in the whole region, multi-disaster, and omnichannel, and explore technical solutions, standard systems, and management mechanisms for disaster early warning. It is the construction and service for China and even the global disaster early warning system and serves a safer community with a shared future for humanity.
As we all know, natural and artificial disasters have always been threatening the life and property safety of the public, especially in public places with a large flow of people. Once an emergency occurs, the consequences will be disastrous if the response and assistance cannot be obtained in time. An efficient and stable emergency broadcast system is crucial for early warning and guidance of public evacuation. ZYCOO IP Audio Center provides features such as emergency paging, emergency alarm, and zone-based paging. The public can get correct instructions when facing emergencies and ensure the safety of public life and property. Meanwhile, create an innovative and safe urban environment.
The cooperation between ZYCOO and the Disaster Reduction Institute is of far-reaching significance. We will work together to innovate and create benefits and are determined to contribute to the global disaster early warning and public evacuation work and contribute all the core technical strengths.