Customer Success | Zycoo IP Audio Solution Applied to an Airport in Peru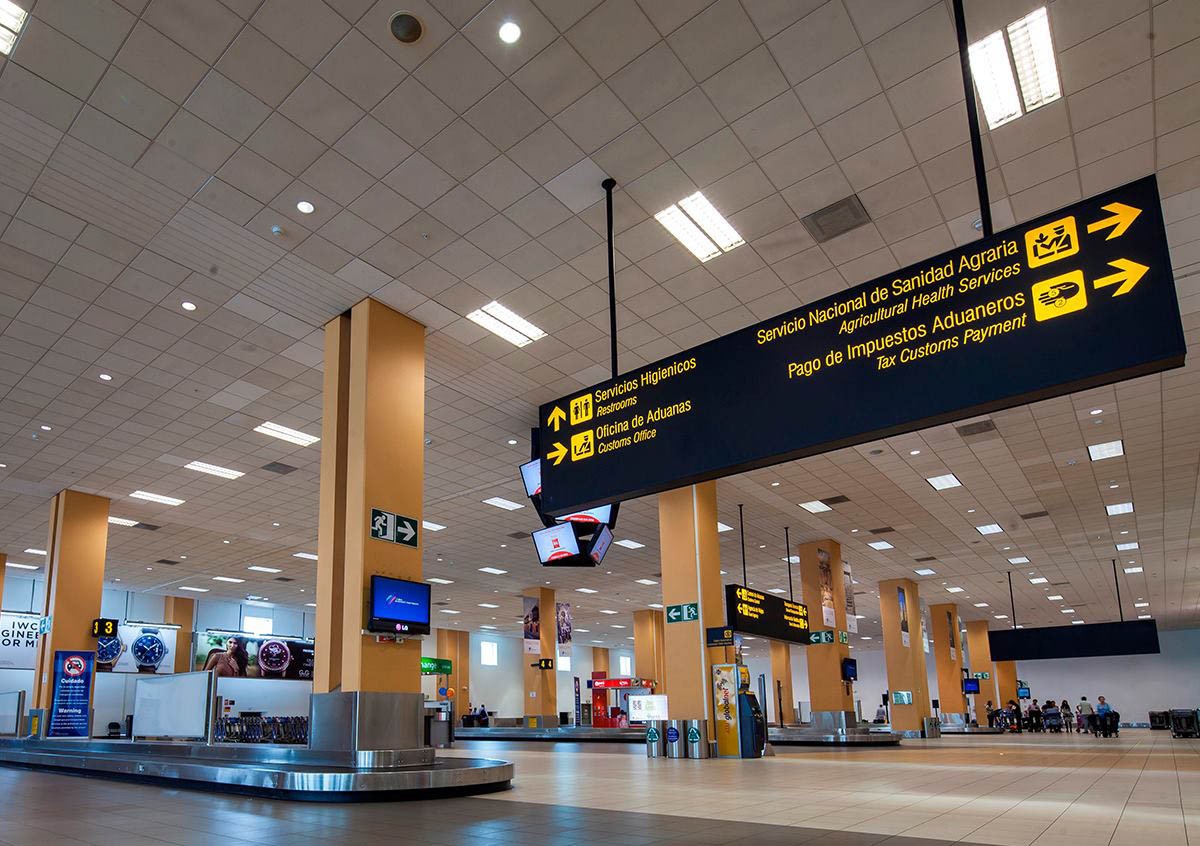 Background
Jorge Chávez International Airport is Peru's main international and domestic airport. Historically, the airport was the hub for Compañía de Aviación Faucett and Aeroperú. Now it serves as a hub for many aviation companies. For decades, this airport has served millions of passengers around the world.
Airports need to make the transportation sites safe for all groups involved. An easy-to-orient environment with an agreeable, appealing, and secure atmosphere. Cutting-edge audio technology and security systems play a vital role in guaranteeing safety. The IP audio applied to public address systems has increasingly become part of the security mix at airports. This airport was just in need of a public address system to keep passengers and staff informed and safe.
Objectives
As highly trafficked and with intense activity peaks throughout the year, this airport needs a quick and efficient response to different situations. A safe, comfortable, and stress-free stay for passengers in an airport is ensured by providing and distributing information for passengers in a high-quality, clearly understandable, and timely manner.
Under normal circumstances, daily operations in the airport like marketing and advertising messaging, safety and security information, directional signage, background music, timed message announcements, and flight postings are of great significance in the deployment of airport audio systems.
While in emergency situations, the audio systems are an essential tool to conduct fast and controlled evacuations, giving instructions and reducing panic. The audio system provides controlled and phased evacuation.
Additionally, installing alongside fire detection and video surveillance solutions is also crucial to an enhanced security system in the airport. Therefore, the peripheral integration needs to be supported on the public address system.
Solution
Based on the objectives and environment of this project, Zycoo provides a customized IP audio solution including hardware and software. This solution is tailored from Zycoo IP Audio Solution, an all-in-one communication system primarily based on SIP, streaming media, and MQTT loT technologies. It provides audio-converged functions like broadcasting, paging, announcements, and more.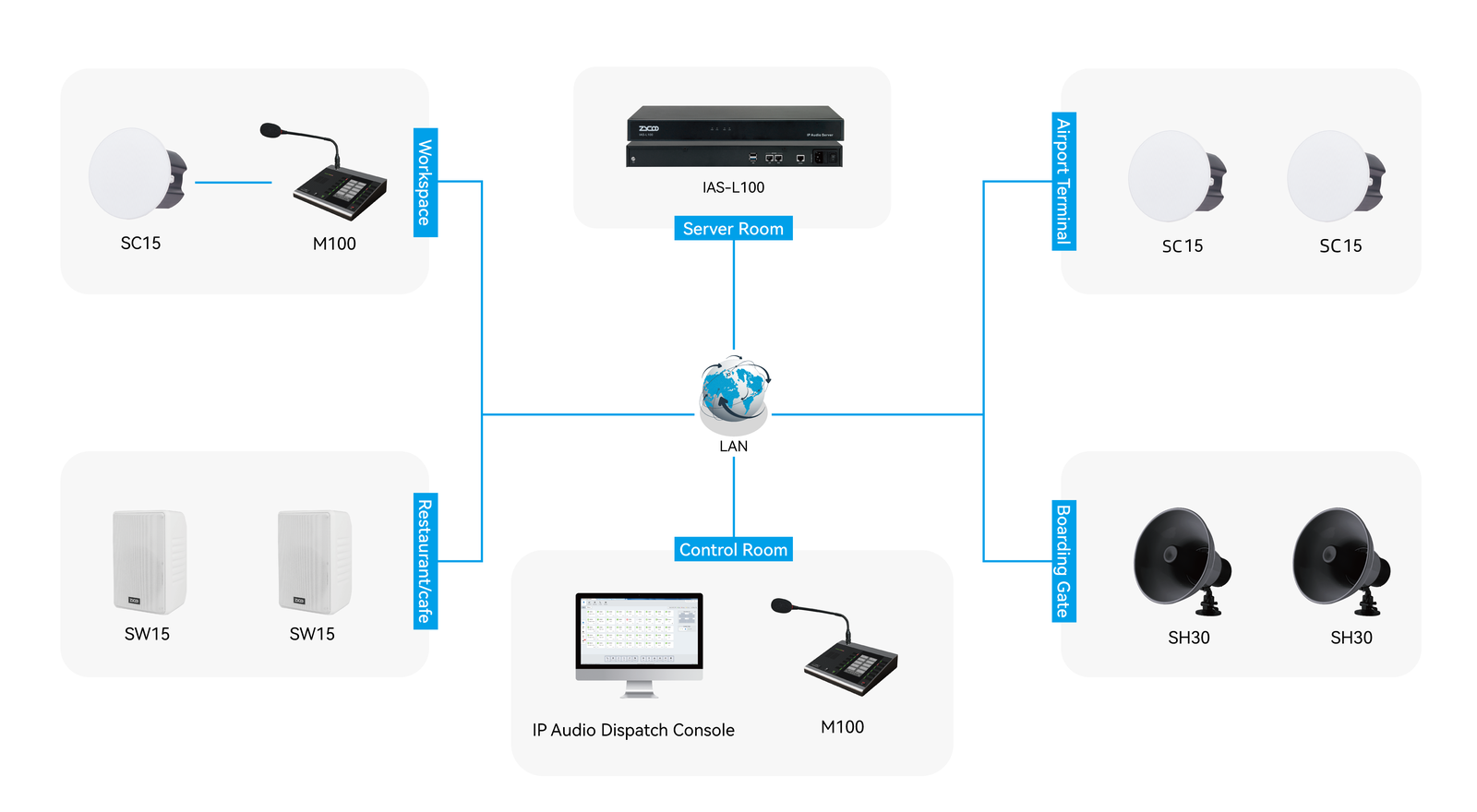 From hardware to software, this project incorporates IP Audio Server, SC15 Network Ceiling Speaker, SW15 Network Cabinet Speaker, SH30 Network Horn Speaker, M100 Microphone Dispatch Console, and IP Audio Software.
IP Audio Server IAS-L100: Installed in the server room, the IAS-L100 server works with Zycoo IP Audio endpoints to realize centralized management and full-duplex communication, terminal configuration, terminal status monitoring, live paging, daily announcements, safety alarms, information broadcasting, background music playback, and more.
IP Audio Speakers: According to the location and functional area, deploy the Ceiling speakers, Cabinet Speakers, and Horn Speakers at the boarding gate, terminal area, rest area, and waiting space. The speakers are used for marketing and advertising messaging, safety and security information, directional signage, background music, timed message announcements, and flight postings.
M100 Microphone Dispatch Console: Deployed in the control rooms for communication tasks like notification, broadcasting, paging, intercom, telephone calls, conference management, and emergency alarm activation. Operators can manage on the PC to achieve management operations.
IP Audio Dispatch Console: The multi-platform dispatch software is installed on desktops or mobile phones. Managers can monitor all endpoints' status, trigger paging tasks, broadcast background music, and much more. It supports multiple dispatch user logins simultaneously in different locations with different groups' management authority.
Advantages
Timing and Paging Broadcasting Function
This solution can realize the docking platform and flight information release. Besides, the system can preset a playlist of scheduled tasks for one day or one week and regularly play voice information and advertising. In addition, it can broadcast paging to different areas through the intelligent paging station, for example, paging missing persons, friendly tips, and warm greetings to some specific areas.
BGM Streaming and Zone Management
To create a relaxed and comfortable environment, appropriate music can be played in public areas to match the environment and increase the sense of comfort and intimacy. According to the functions of different areas, the whole airport can be grouped into different zones to realize different functions.
Fire Linkage and Emergency Integration
When encountering a special accident or emergency, the terminal integrated into the safety system will feedback to the host after receiving the alarm signal from the fire center and force the system to cut off the background music and service broadcast to enter the alarm working state, and broadcast the emergency information through the emergency broadcast microphone or broadcast the pre-recorded evacuation message to guide passengers and all people out of the scene safely, preventing the disorder at the scene and reducing the loss to a minimum.